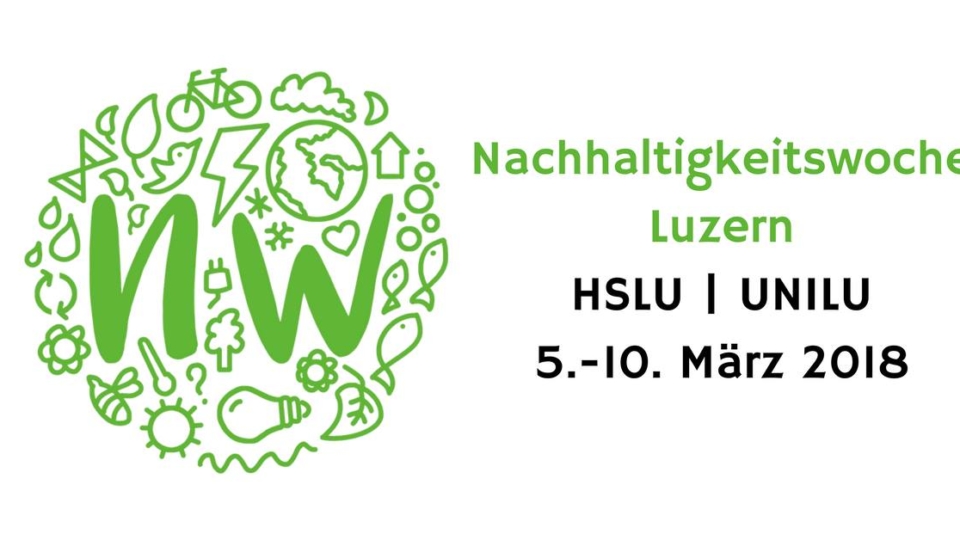 Nachhaltigkeitswoche Luzern – 05. – 10. März
The Swiss Sustainability Week was initiated in 2017 by the Sustainability Week Zurich (NHW), Sustainability Week Geneva (EDD) and the Swiss Association of Student Organisations for Sustainability (VSN/FDD/FSS).
In 2018 the Swiss Sustainability Week will take place at tertiary education institutions in 11 Swiss cities. Each city will offer an exciting program of events, which are organised by students and free and open to all.
DAS PROGRAMM 2018
5. März 2018
18:15 – 21:30 Vortrag Klaus Mathis
Universität Luzern, 3.B52
6. März 2018
18:30 – 20:00 Filmabend: "True Cost"
Bau 745, Emmenbrücke
7. März 2018
18:00 – 20:00 Lesung: "Jeder Tropfen zählt" mit Ernst Bromeis
Universität Luzern, 3.B52
8. März 2018
17:00 – 20:00 Potluck Dinner
Haus Horizonte, Luzern
9. März 2018
10:00 – 14:00 Kleidertausch
Universität Luzern, Luzern
18:00 – 21:00 Filmabend: "Cowspiracy" und Apéro
Bau 745, Emmenbrücke
10. März2018
14:00 – 16:00 Workshop: Zero Waste
Haus Horizonte, Luzern
Weitere Infos findest du >HIER<